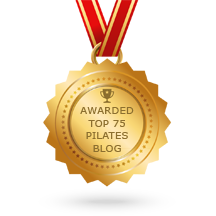 Hello there!
Let me express a HUGE thank you to all my lovely subscribers. Thank you for all your support, kind words and Pilates success stories over the past 5 years. It's an inspiration to have all of you with me on my Pilates path.
I'd like to thank my Reformer… and my Small Barrel…
The Top 75 Pilates Blogs by feedspot.com has included my blog amongst some of the big kahunas in the Pilates industry including Pilatesology (5), Balanced Body (3), Blogilates (2) and Pilates Anytime (1).
Wowza! I am truly honored.
Even more amazingly I cracked the top 10, settling in at NUMBER 9 on this list.
View the full list here.
OMG and welcome NEW subscribers!
Take a look around and stay tuned for more exercise tutorials, workouts and classes to come.
Be sure to check out my most-viewed post On the Order of the Pilates Reformer Exercises.
If you've got a topic, concept or exercise you'd like to see featured in a post or video, leave me a comment, I'd love to hear about it.
NEW! Classes for Teachers
I'm offering a new class in my Solana Beach, CA studio.
It's a 2-hour workout/workshop I'm calling The Teacher Lab. In the 1st hour you'll workout independently in the studio. We'll decide on a discussion/workshop topic to explore in Hour 2. The cost for The Teacher Lab is $100.
I'm currently offering 1 each month for the remainder of 2017. If they fill up fast I'll add some more. You'll find a class on September 15, October 20, November 10 and December 8.
Classes are limited to 6 students. Non-Teacher Nerdy Enthusiasts are also welcome.
Pick a class and jump in it! Purchase your classes here.
New Tutorial!
Today's video is on one of our most angst-producing exercises, the Swan. That's the bad news. The good news is we're looking at 2 versions of Swan done on the Cadillac.
Swan on the Cadillac is a wonderful companion for the Teaser on the Cadillac. View my recent exercise tutorial below.
Tummy Time
The Mat behind us is our teacher too.
Learning to control the Push Thru Bar (PTB) for Teaser will require all the muscles of our trunk and back. The Mat provides feedback and support for our entire body while we perfect this skill.
Now let's get ready for the next challenge: repeating the very same task while lying on our bellies.
What fun!
Enjoy this short tutorial. Thank you for watching!
Access my YouTube library of workouts, exercise tutorials and the occasional Pilates shopping haul here. Thanks to you I have surpassed 1200 subscribers!
Save the Date San Diego!
My lovely colleague Lesley Logan, author and owner of Profitable Pilates will be heading to San Diego for her signature Pilatini® Night.
Save the date for Friday November 10, 2017.
We'll be gathering at Pacifica in Del Mar around 5pm in time for a bit of Happy Hour.
Pilatini® NIghts include Pilates instructors, laughter, networking and a chance to connect outside the Pilates studio. Lesley Logan's Pilatini® Nights are all about Pilates Instructors ditching their Pilates pants for their favorite outfit and hanging out with other Pilates professionals. Grab your Pilates instructor friends, shed the luon and join us for a date night for Pilates Pros only!